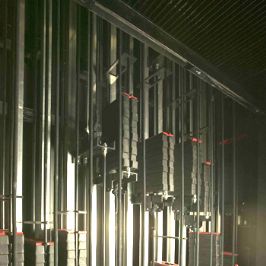 View more images


Manual system installed to up, down and displace horizontally, stage elements up to 500Kg. in weight.

One person cannot move weight elements when they have certain dimensions. For this reason, Strong Stage design counterweight fly facilities with which anyone can move up to 500Kg. components thanks to the counterweight which helps the person to divide the total weight.

With this system, Strong Stage install safety elements to avoid dangerous situations, for example the guides for counterweights and a safety grid which is installed to create an area where no one can enter, except the responsible of the installation.

Strong Stage Technical Department carries out any calculations inherent to the structure which is necessary to support the different mobile and fix elements of the stage.

Starting from a grid support structure or the support structure of the building, our technical staff is going to measure and calculate structure loads, taking into account current and future needs of the installation to avoid limiting its usage.




Brand: Strong Stage


Reference: Sin especificar




Back